Culligan Water of Bemidji
Shop our water products today
1400 Neilson Ave S.E.
Directions
Hours:
8:00 am - 4:00 pm Mon- Fri
Better Water for Everyone in Your Home
Since the beginning, Culligan's mission has been to deliver high quality water treatment products that will benefit every part of our customers' lives. We hope to raise the quality of life by purifying its most essential element: water.
We've seen about every water problem imaginable and we're solving these problems to deliver the refreshing, clean and pure water that's become our hallmark. Water treated with Culligan softeners or filtration systems will make an impression on you and your household or work.
Culligan of Bemidji was established in 1946 in the area that is Bemidji city hall. Bill and June Bender bought the Culligan franchise from Clarence Oside in 1961. They purchased the dealership in Park Rapids in 1974 and combined both stores to operate out of Bemidji. In 1981 a new office and shop were built in the current location of 1400 Neilson Ave. The Bender family retired and the business was sold to John Packard. John owns and operates over 30 dealerships throughout the United States. It is important to our company that each Culligan dealership is active and connected to the communities they service.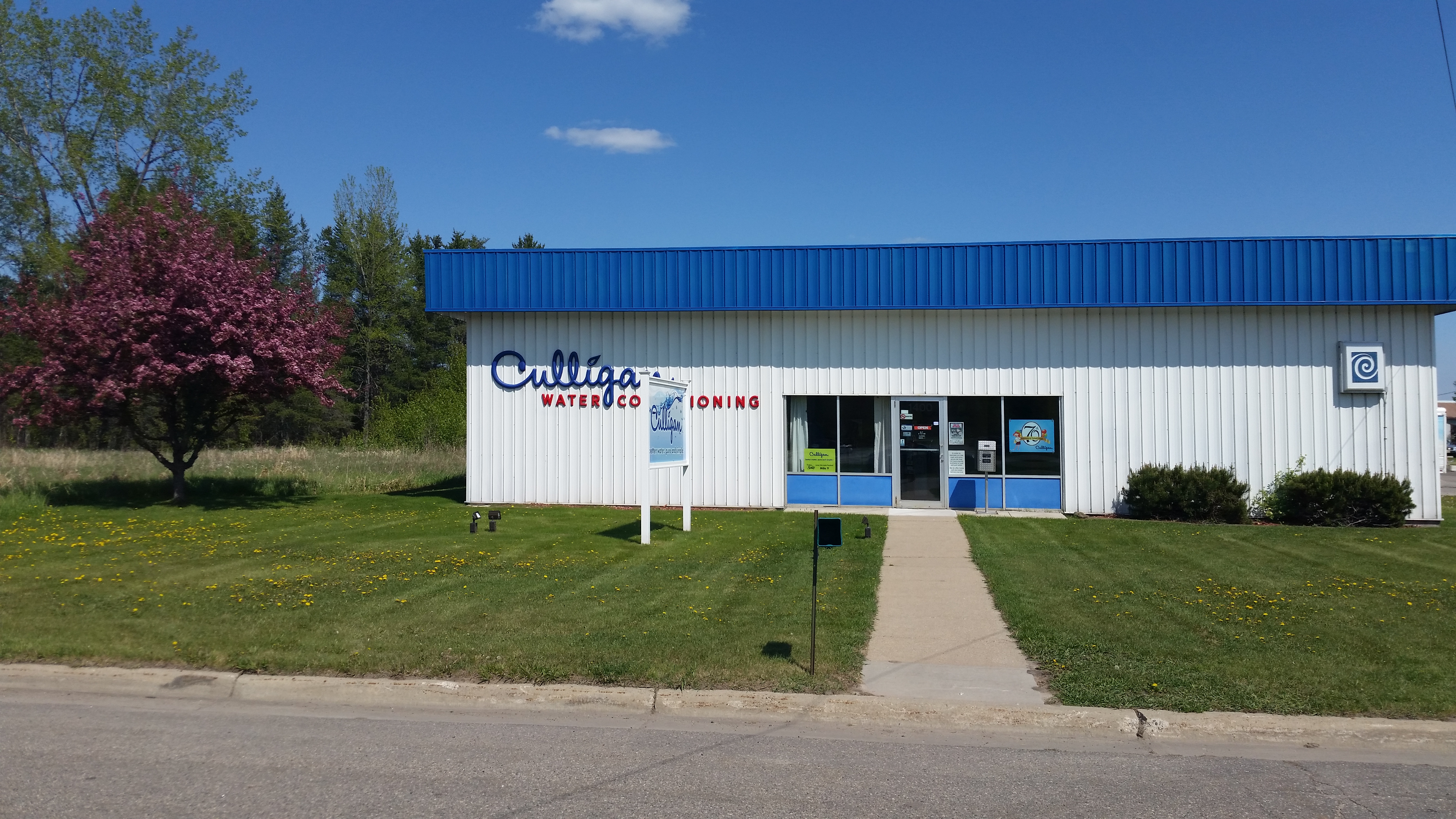 Here are the latest offers for your dealer
Click the Print Coupons button or select File > Print in your browser.
Visit your Culligan Water dealer with your printed coupons and start saving!
Check back often for new deals.
Receive two complementary bags of salt when you set up recurring salt delivery.
See dealer for details on this limited time offer. Promotion may be subject to term agreement. Only one coupon per person and not valid with other offers. Dealer participation may vary. Offer expires January 31, 2022.
Rent a water softener or drinking water system today and receive special pricing of $9.95 for the first three months.
See dealer for details on this limited time offer. Promotion may be subject to term agreement. Only one coupon per person and not valid with other offers. Dealer participation may vary. Offer expires January 31, 2022.
Reviews for Culligan Water of Bemidji
I have to agree with Pam. They ate very rude folks. We rented from them for over 16 years! We bought our own softener and canceled culligan. The guy that came out to pick up the unit did not knock to come in. He went straight to our basement. My wife was sleeping and is a nurse. And I was doing work in my office and all of a sudden I hear him bringing up the resin tank. He was very rough in doing so and woke my wife up and startled me! My wife and I were going to file charges on him for entering without knocking. We run security cams. And then he also refused to remove the salt tank and said it was too heavy and told me to do it. Saud if I brought it up from basement he would take it. The salt tank was nearly empty and weighed no more or less than the resin tank. I am disabled and cannot and should not risk injuring my joints. Talk about rude 200% I would not recommend this office to anyone looking for softener needs. They also refused to refund my security deposit made when I opened the account 16 years ago. My salt tank remains in my basement for the time being. They just didn't want to take it. After being with them for over a decade this is how we are treated. Unreal.
Everyone I encountered was very knowledgeable and helpful. The office staff is amazing, super friendly and very helpful.
Right now I would give ZERO stars if I could. Going 'rounds' with people in the office, my situation has been going on for months. Oh but Connie .... forget it, her attitude is lousy. I've left messages with a couple different individuals to get someone 'higher up' to call me re: my issue, even for the manager...silence. I call again to inquire and follow up, get Connie and she says SHES following up with ME . *smh* no one from that office has EVER called me back. Needless to say, their office people are pretty rude for being in customer service. There have been a handful over the 10 yrs over the years with them that took attitude with me over their equipment. No more 'walks'...strike, you're out. You're better off outright buying one...no BS .
We moved into a place who's water softener system ws messed up and in needed a water softener system fast. Culligan of Bemidji had great service great technicians and good prices. The system was installed quick, clean and have not had an issue since.
From the time I inquired about the services of Culligan Softener, until a unit was placed in our home, I was very happy with the staff. Our questions were answered honestly, and our new Softner was installed quickly. I would recommend Culligan of Bemidji to all.