Culligan Water of Waukesha
1801 Pewaukee Rd
Directions
Hours:
8 to 4:30 Monday through Friday
Better Water for Everyone in Your Home
Arsenic and nitrates are the biggest water problems in the Milwaukee and Waukesha area, but hard water, iron and overall quality of drinking water are also a concern for local residents. Over the last 24 months contamination issues, pockets of arsenic & nitrates, municipal water concerns, and boil advisories have been on the rise. Problem water can harm your home or business in a variety of ways. Your Culligan Man is your local water expert, and has the right water treatment solution for every situation. Whether you need a Culligan® HE (High-Efficiency) Water Softener or a Culligan® Aqua-Cleer Drinking Water System your local Culligan Man™ will solve your water problems with great service and the right equipment.
Our office is open from 8 to 4:30 Monday through Friday. We also offer 24/7 emergency service. If you have any questions regarding equipment or water testing, we also offer a wide variety of in-home appointment times to fit your busy schedule, including Saturdays. Our delivery drivers are on the road and ready to serve your needs for Culligan® Bottled Water, water softener salt and other products you need for top-quality water.
At Culligan of Waukesha we believe in supporting community non-profits. We're proud to support MS Society, Aids Walk WI, Cystic Fibrosis, Walk for the Cure, and many other local charities.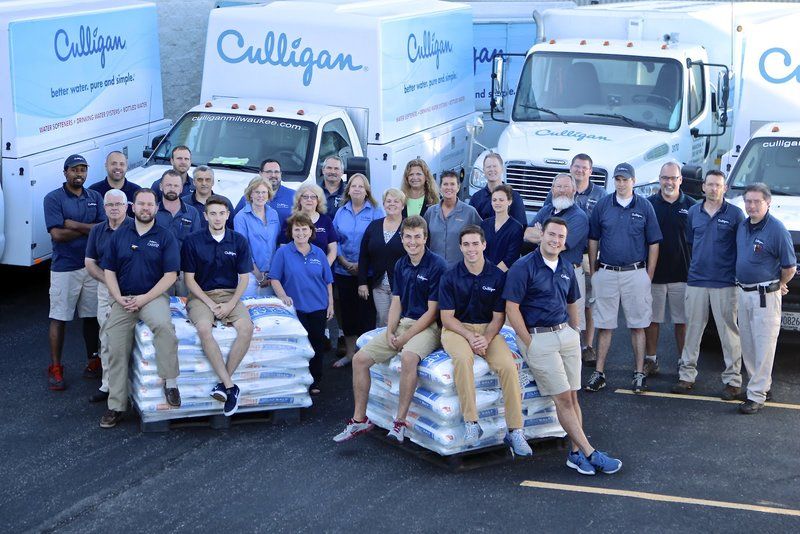 Featured Products
Featured Services
Here are the latest offers for your dealer
Click the Print Coupons button or select File > Print in your browser.
Visit your Culligan Water dealer with your printed coupons and start saving!
Check back often for new deals.
Rent a Culligan Water Softener & Drinking Water system & receive the first two months RENT FREE
See dealer for details on this limited time offer. Rental price subject to 12 month term agreement. Only one coupon per person and not valid with other offers. Dealer participation may vary. Offer expires January 31, 2019.
Give your people Culligan Water with a Bottle Free Cooler for $59 per month.
See dealer for details on this limited time offer. Rental price subject to 12 month term agreement. Only one coupon per person and not valid with other offers. Dealer participation may vary. Offer expires January 31, 2019.
Reviews for Culligan Water of Waukesha
I don't know how we existed before Culligan water delivery. We live in an area where our tap water is questionable. Now my kids can safely and easily fill up their water bottles and I don't have to refill gallon jugs at the grocery store every week and lug them back and forth. Delivery is always correct and on time. Thank you.
We are enjoying our new Culligan water system! Everyone has been a pleasure to deal with and very helpful. Joe did a quick and efficient installation after I mentioned I needed to grab my daughter from school. Thanks Joe!
RUN!! Was very disappointed by the professionalism demonstrated by this company. Everything was great except the install itself. I got a reverse osmosis and a new water softener installed. They left dirty rags, gloves, and the old piping for the old water softener in my basement when they left. The cord to the water softener was just a jumbled knot hanging in the air. They moved my drainage to my mop sink and they put it right by the handle and shooting off the edge so my basement flooded the first time the water softener drained and every-time you turn the water on. When I called and complained I never got a response. Then they wouldn't cancel my salt delivery or filter changes and I had to reach out 4 times, and a fifth when they still wanted to charge me for a month of a service I wasn't continuing. Honestly a joke, especially for the price they charge. You'd be better off going to ANY other water company in the area.
The service was great and the Culligan gentleman that provided the service even helped me (over 70) change a light bulb I couldn't reach! Over and beyond good Culligan service and caring!
Joe Landowski From Culligan is awesome. I am currently very ill and bedridden. Additionally, my stepson has moved back home and his apartment is basically taken over our basement. Joe just quietly came in, did his thing, PLUS a bunch of extra stuff (our fridge filter needed replacement and he spent a lot of time making sure the problem wasn't Culligan related and figured out and let me know what the problem was). He was in and out like Santa Claus, 'cept I didn't have any cookies for him. Maybe next year. Culligan is SO worth it. A great company and great people. They call me every year to set up a maintenance check. How great is that! Thanks Joe, you're awesome. I promise next year you'll be able to get to everything in the basement!!