Culligan Water of Brookville
Shop our water products today
992 Route 28
Directions
Hours:
7:00am to 4:30pm Monday through Friday
Better Water for Everyone in Your Home
Culligan has been a part of the Brookville community for over 40 years. We're proud to serve Brookville, Corsica, Clarion, Sligo, St. Petersburg, Dayton, Shippenville, Knox, Fisher, Marienville, Cooks Forest, Ridgway, Johnsonburg, St. Mary's, Wilcox, Dubois, Treasure Lake and Reynoldsville and the surrounding Clarion, Armstrong, Jefferson, Forest, Elk And Clearfield area.
The Packard Culligan Of Brookville has been a family-owned company since 1977, with values based on safety, integrity, teamwork, and continuous improvement, dedicated to exceeding customer and employee expectations.
Iron is the biggest water problem in the entire service area, but hardness, rotten egg odor, bacterial contamination and quality drinking water are also a concern for local residents. Extreme iron content and hydrogen sulfide (rotten egg) odors are the main issues that Culligan has been very successful at treating effectively while at a substantial lower cost than the competition. The high levels of iron found in the local area demand a timely, dependable service team that is available 24/7 to handle emergency calls. Problem water can harm your home or business in a variety of ways. Your Culligan Man™ is your local water expert, and has the right water treatment solution for every situation. Whether you need the high efficiency water softener that doesn't require reset after a power outage or an advanced commercial treatment solution, your local Culligan Man™ will solve your water problems with great service and the right equipment.
Our office is open from 7:00am to 4:30pm Monday through Friday and we also offer a wide variety of in-home appointment times to fit your busy schedule. 
At Culligan of Brookville we believe in supporting community non-profits. We're proud to support many community events, benefits, and fundraisers by supplying drinking water at no charge. Please feel free to contact us with any fundraising needs you or your people have! 
You could give your people Culligan Water.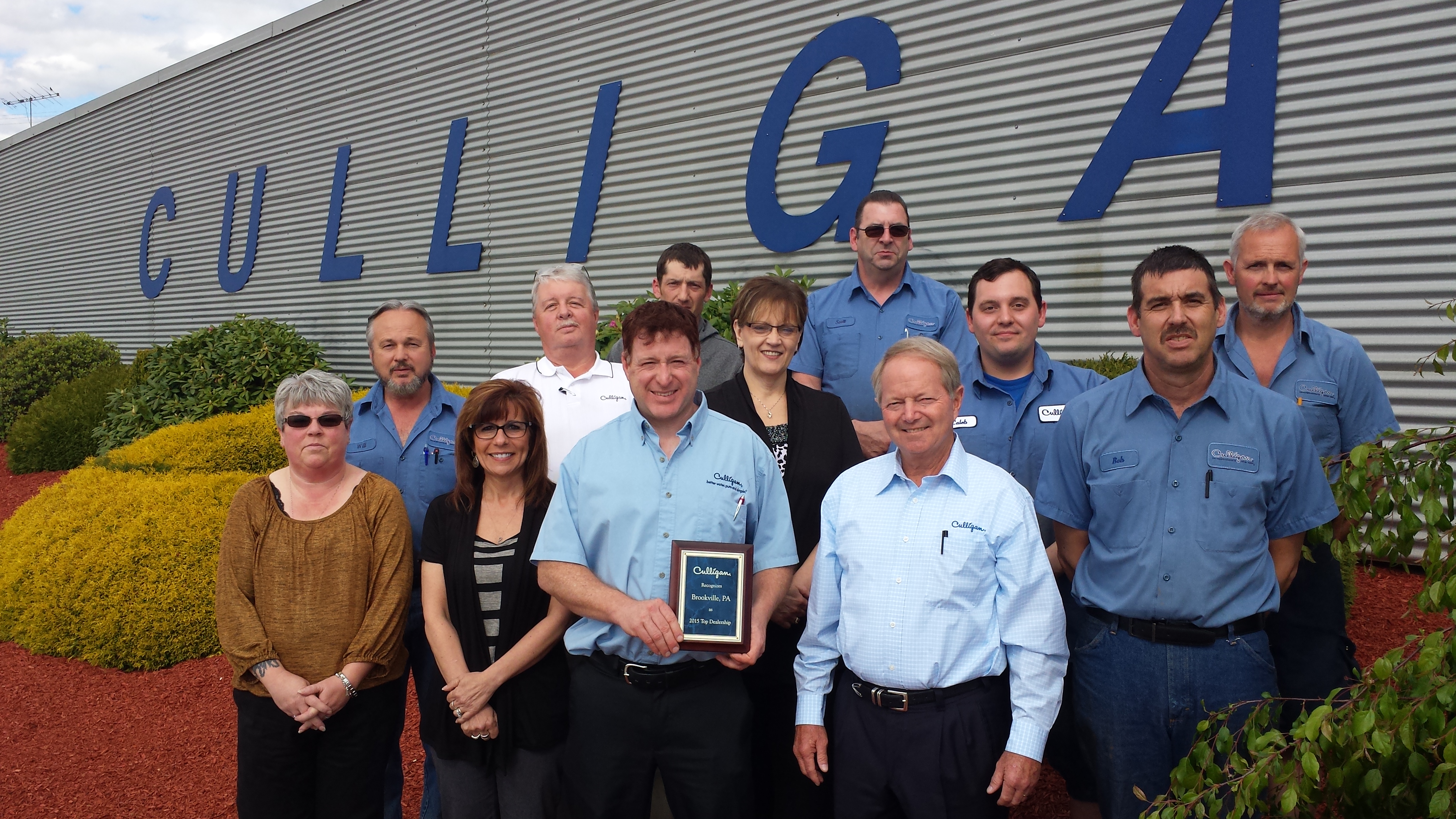 Featured Products
Featured Services
Here are the latest offers for your dealer
Click the Print Coupons button or select File > Print in your browser.
Visit your Culligan Water dealer with your printed coupons and start saving!
Check back often for new deals.
Receive two complementary bags of salt when you set up recurring salt delivery.
See dealer for details on this limited time offer. Promotion may be subject to term agreement. Only one coupon per person and not valid with other offers. Dealer participation may vary. Offer expires January 31, 2021.
Rent a water softener or drinking water system today and receive special pricing of $9.95 for the first three months.
See dealer for details on this limited time offer. Promotion may be subject to term agreement. Only one coupon per person and not valid with other offers. Dealer participation may vary. Offer expires January 31, 2021.
Reviews for Culligan Water of Brookville
My 75 year old grandmother purchased salt and then asked for help loading five 40-pound bags of salt into her vehicle, which they've always done in the past with no issue. She was told that Culligan no longer loads the salt into your vehicle for you (not COVID-related, just a new policy). Disappointing that a business would have this type of customer service in a community with so many elderly residents.
It's unfortunate that Culligan of Brookville no longer loads bags of salt into the vehicles of their elderly and/or physically limited customers from the loading dock at the Brookville location. Not at all an empathetic way to treat your elderly and physically limited customers. I messaged several days ago and have not received a response to this change in service.
They are a very friendly reputable, and professional company. They will take care of all your water problems.
Awesome customer service!! Showed up right on time, very friendly, and helped us by answering a lot of our questions!!!
I had a problem with my water conditioner recently and called for service. The service man arrived promptly the same day and after trying to clean out the flow valve told me I would need a couple hundred dollar part which I agreed to. However shortly he told me it was just plugged and he was able to fix the problem with just a service call. A lot of companies would have taken the money.