Culligan Water of Brookville
Shop our water products today
992 Route 28
Directions
Hours:
8:00am to 4:00pm Monday through Friday
Better Water for Everyone in Your Home
Culligan has been a part of the Brookville community for over 40 years. We're proud to serve Brookville, Corsica, Clarion, Sligo, St. Petersburg, Dayton, Shippenville, Knox, Fisher, Marienville, Cooks Forest, Ridgway, Johnsonburg, St. Mary's, Wilcox, Dubois, Treasure Lake and Reynoldsville and the surrounding Clarion, Armstrong, Jefferson, Forest, Elk And Clearfield area.
The Packard Culligan Of Brookville has been a family-owned company since 1977, with values based on safety, integrity, teamwork, and continuous improvement, dedicated to exceeding customer and employee expectations.
Iron is the biggest water problem in the entire service area, but hardness, rotten egg odor, bacterial contamination and quality drinking water are also a concern for local residents. Extreme iron content and hydrogen sulfide (rotten egg) odors are the main issues that Culligan has been very successful at treating effectively while at a substantial lower cost than the competition. The high levels of iron found in the local area demand a timely, dependable service team that is available 24/7 to handle emergency calls. Problem water can harm your home or business in a variety of ways. Your Culligan Man™ is your local water expert, and has the right water treatment solution for every situation. Whether you need the high efficiency water softener that doesn't require reset after a power outage or an advanced commercial treatment solution, your local Culligan Man™ will solve your water problems with great service and the right equipment.
Our office is open from 7:00am to 4:30pm Monday through Friday and we also offer a wide variety of in-home appointment times to fit your busy schedule.
At Culligan of Brookville we believe in supporting community non-profits. We're proud to support many community events, benefits, and fundraisers by supplying drinking water at no charge. Please feel free to contact us with any fundraising needs you or your people have!
You could give your people Culligan Water.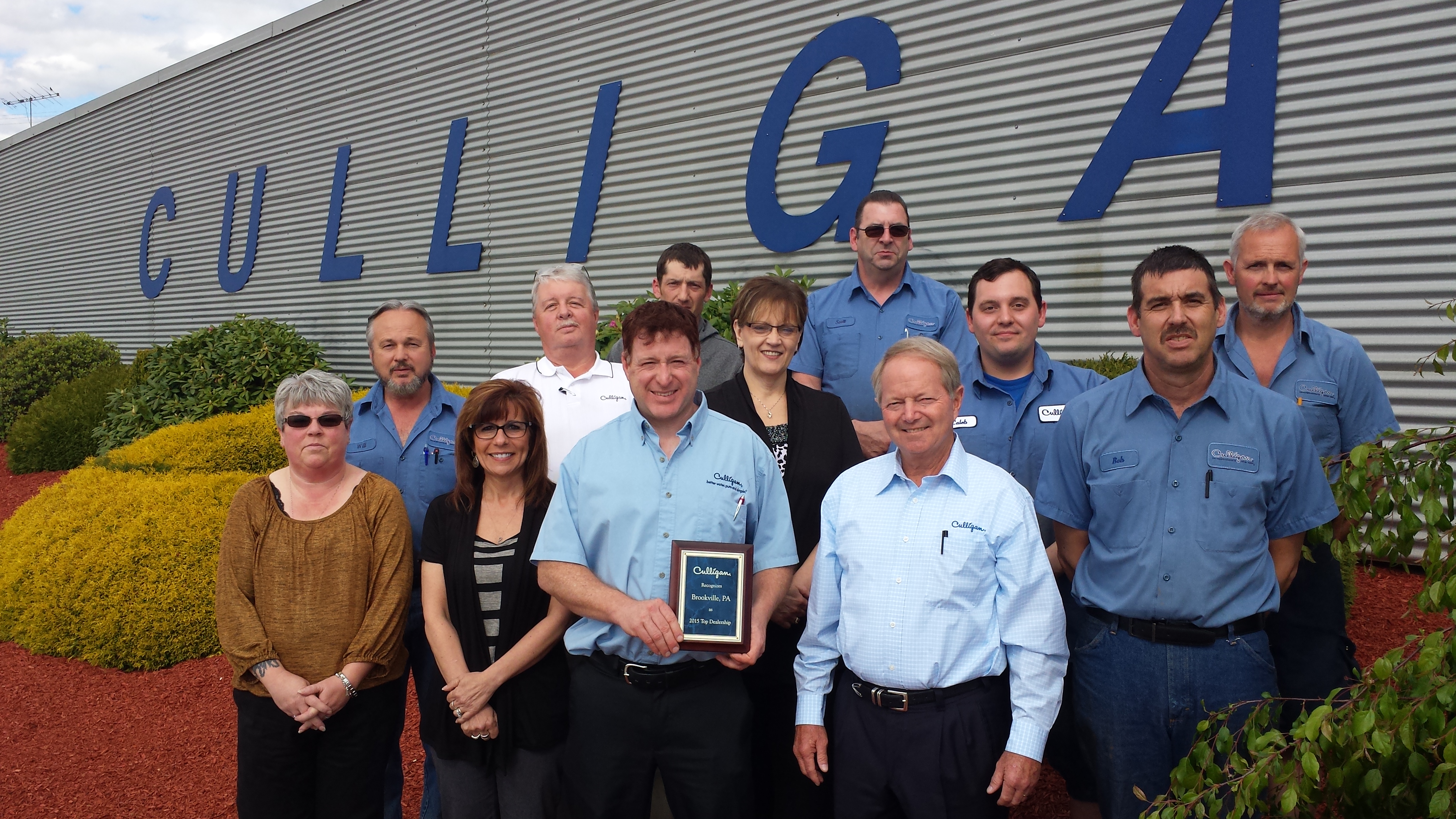 Here are the latest offers for your dealer
Click the Print Coupons button or select File > Print in your browser.
Visit your Culligan Water dealer with your printed coupons and start saving!
Check back often for new deals.
Receive two complementary bags of salt when you set up recurring salt delivery.
See dealer for details on this limited time offer. Promotion may be subject to term agreement. Only one coupon per person and not valid with other offers. Dealer participation may vary. Offer expires January 31, 2022.
Rent a water softener or drinking water system today and receive special pricing of $9.95 for the first three months.
See dealer for details on this limited time offer. Promotion may be subject to term agreement. Only one coupon per person and not valid with other offers. Dealer participation may vary. Offer expires January 31, 2022.
Reviews for Culligan Water of Brookville
Frequently fails to deliver new tanks which has already resulted in us having to replace a hot water tank early due to excess residue in the tank from unfiltered water. Every time they fail to deliver a tank we call and get some excuse as to why they won't credit our bill literally blaming us for their failure to provide the service they're charging us for! We're always home and they always have access to deliver, but literally just never show up some months.
They are just so polite and helpful and keep my Culligan unit in great working order at which point runs excellent and does what it is meant to do. Keeping my water clean!!! Thank you Guys and Culligan Water Conditioning. Mary Wallace
Happy to have been a customer of Culligan of Brookville for at least 15 years. We use their bottled water for ourselves, our pets, and for my childcare kids and love the convenience and high quality of the bottled water and cold water dispenser. Have received pleasant, knowledgeable assistance anytime I've called their office and delivery has always been super dependable, too!
We had a water system installed yesterday, our tech was Seth Williams...I cannot say enough good about this young man, he was prompt, courteous, extremely knowledgeable and gave us great instructions. He cleaned up after the install and even tolerated our golden retriever trying to steal his tools. I would highly recommend this young man for your tech!!!
Horrible company. Please, for the love of god, listen to all the reviews about this company. It is, by far, the worst company you will ever deal with. Prior to going with Culligan they sent a sales rep to my house to discuss everything. She tells me absolutely everything is covered with this service. It's literally a no hassle, care free services (as it should be for water filters you pay $80 per month for.) she says they will put me on a 3 month rotation to have my softener tank filled. Awesome. I'm not a cheap person, I am absolutely 100% willing to pay top dollar for solid services, which is why I went with Culligan. So fast forward a few weeks after the purchase. The technician shows up to fill the water softener system and informs me none of the products were even functioning. We have a laugh, whatever, it is what it is. I paid for the 2 weeks without it working but no biggie. He comes a few days later and installs new units. Great. Now 3 months goes by...no ones comes to fill the softener tank. Another month goes by so I call to ask why no one has shown up to put Softener in and the lady informs me I'm only on a once per year cycle (which is funny because I only signed a 6 month contract. So how exactly does that makes sense?) I tel the lady on the phone it needs to be done... I pay $80 per month for this service, so send someone. So Culligan sends someone a few weeks later. The guy shows up, I tell him my story. He laughs and says he's never heard of anyone being on a one year rotation. He does his thing, puts softener in and checks my system to make sure everything is good to go. Let me say, he was the only positive part of this company I've experienced. He seemed to be very knowledgeable, professional and friendly. So a couple days later I get a $120 bill in the mail for a couple bags of salt!! As you can imagine, I'm absolutely livid. All of this should have been covered. Then to charge me around $12 per bag of salt? Wow. It costs about $5 per bag at Walmart. I called and spoke to a lady who didn't care to hear anything I had to say. Thus, my experience with Culligan will be ending. They've lost a customer who would have been content paying their fees every single month with not many questions asked. I'm not 100% sure what to do about a new filter system. I'm either calling Hughes water services (from what I'm hearing, they have great customer service and a great reputation) or I'll go to Lowe's and purchase my own system. What really gets me is I paid these people more money than what it would have cost to purchase my own unit and yet here we are. I'll reiterate, please guys do NOT give this company the time of the day. They have a horrible reputation amongst the community for a reason. Listen to what people with experience have to say.